Evidenced-Based Treatment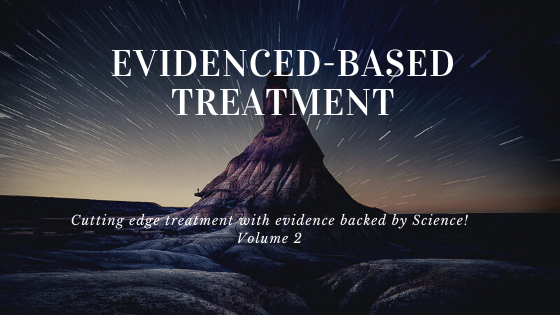 Published: November 4, 2019
Road to Recovery – Volume 2
These types of treatments are backed scientifically to produce positive results. An evidenced-based approach is always looking at new research and studies and re-evaluates treatment methods based on findings. As understandings of addiction and addiction recovery change, we continually strive to bring best practices into our treatment modalities and interventions. Evidence-Based Treatment (EBT) Evidence-based treatment (EBT) refers to treatment that is backed by scientific evidence. That is, studies have been conducted and extensive research has been documented on a particular treatment, and it has proven to be successful.

Evidence-Based Treatment is a relatively new field that has spread to nursing, psychology, and most recently to the successful treatment of alcohol and drug-related addictions. At its most basic level, evidence-based treatments are founded on research studies.
Evidence-based decisions are made after reviewing the data gathered from repeatedly testing various treatment options. The data removes the "guesswork" about what works by utilizing methods that have been proven to work overtime with a variety of subjects and situations. Intuition may work in some situations but science and evidence are based on fact.
It is reported that only 10% of all U.S. drug rehab facilities utilize some form of evidence-based therapy, and only half of those have doctors on staff. At Inspire Rockland Treatment Program, our program is Science, Research, and Evidence-base and we offer a variety of successful 12 step therapies.
We feel this is necessary because drug and alcohol addiction is a complex illness that develops over time and compromises one's ability to cope on a voluntary basis. Once the illness becomes compulsive, the brain loses its ability to control behavior.
At this stage, behavior therapy is necessary to overcome the stifling effects of the addiction. Successful treatment is never an easy road. It is a process that takes time and includes not only detoxification but also relapse prevention. Which is why it is so important to incorporate a science and evidence-based approach supervised by a trained physician.
Evidence-Based Psychosocial Treatment
Research has shown some of the most effective types of therapies for treating substance abuse include the following:
Cognitive Behavioral Therapy
Motivational Enhancement Therapy
Twelve-Step Facilitation
Group Therapy
Family Therapy
Cognitive Behavior Therapy – CBT
Cognitive Behavior Therapy is based on social learning therapies and targets two areas for substance abuse: dysfunctional thoughts and maladaptive behavior. One of the main goals of Cognitive Behavior Therapy is to identify dysfunctional thinking and behavior and modify them through the use of appropriate coping strategies.
Motivational Enhancement Therapy – MET
Motivational Enhancement Therapy is a longer-term intervention strategy and is used for patients who have accepted to change their substance abuse for the positive. It combines cognitive techniques with therapist persuasion techniques to encourage the patient by setting goals and finding the motivation to change. MET has shown effectiveness even for patients who are not completely motivated to change.
Group Therapy
Through the use of a therapist as a guide, Group Therapy has shown to be a successful part of the treatment process. Many patients take comfort in knowing they are not alone and often model the success of other patients to help aid in their own rehabilitation. Substance abuse often has a social attachment and this is confirmed through the success of group therapy. It is easier to relate to someone currently going through the same situation than an outsider. Publicly admitting a problem in a safe setting with others who can understand and empathize helps to avoid relapse.
Family Therapy
Family Therapy can take place in a formal setting or through periodic contact, with the goal of monitoring the patient's status and attitude about drug use and treatment adjustment, as well as providing support and encouragement. Evidence has shown that contact with, and positive reinforcement from non-abusing family members can lead to successful outcomes.
All of the therapies mentioned here are Science and Evidence-Based Treatments for drug and alcohol addiction. They have been reviewed to provide positive outcomes and have shown high success rates for a variety of patients. If you or loved one is considering treatment for drug or alcohol addiction, it is highly recommended to seek the care of a facility that utilizes Evidence-Based Treatment.
About The Twelve Steps
As a part of along-term U.S. Government clinical trial on different forms of addiction treatment, Twelve Step Facilitation Therapy was shown to be an effective aftercare tool for those recovering from substance abuse issues. A counselor works with an individual over 12 to 15 using certain principles used in 12 step support groups.