Veteran Addiction Treatment Program
Ready to start? We're here for you. Call (727) 220-2422
Veterans and Rockland Treatment Center
At Rockland Treatment Center, we recognize the immense sacrifices made by our service members, and we are proud to provide comprehensive addiction treatment to our nation's veterans. Our veteran addiction treatment program is designed to address the unique challenges veterans face when struggling with substance abuse. This program is staffed by highly trained professionals who specialize in treating addiction and its underlying causes that are commonly experienced by veterans.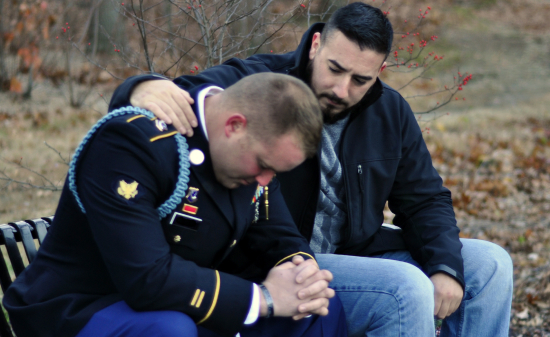 We believe every veteran deserves the highest quality of care, and we are committed to providing that care in a way that is accessible and convenient. Our program includes inpatient and outpatient options, allowing us to offer flexible treatments tailored to each veteran's needs. We are also in-network with VA Optum, meaning eligible veterans may receive crisis stabilization care from a Rockland Treatment Center facility without needing a referral from the VA.
Statistics on Veterans and Addiction
With over 10% of veterans being diagnosed with a substance use disorder, it's clear that addiction among veterans is a pressing issue. Most military personnel undergo extensive training prior to deployment and are typically exposed to more intense environments than civilians. This may put veterans at an increased risk of developing post-traumatic stress disorder (PTSD), depression or anxiety, which may lead to substance abuse as a way of coping.

The following statistics provide a better understanding of the impact that addiction has on veterans:
65% of veterans who enter treatment report alcohol as the substance they primarily abuse, almost double the rate of civilian counterparts.
Around 30% of veterans use tobacco products, and data suggests that veterans are more likely to use tobacco in nearly all age groups compared to the general public.
3.5% of all veterans report using marijuana, with 1.7% of veterans reporting using an illicit drug other than marijuana in a 1-month period.
Veterans with a substance use disorder are 3 to 4 times more likely to be diagnosed with PTSD or depression.
Unfortunately, many military divisions have a zero-tolerance policy regarding substance abuse, making it difficult for service members to seek help without fear of being discharged. This often leads to an increase in the severity of their addiction before they are finally able to receive treatment. Moreover, veterans are often subject to chronic pain, trauma, homelessness, and suicide risk, all of which may contribute to developing or exacerbating substance abuse.
Why Veterans Choose Rockland Treatment Center for Addiction Treatment
At Rockland Treatment Center, we are committed to providing world-class care to our nation's heroes. As a veteran seeking addiction treatment at one of our facilities, you'll have access to:
Experienced and dedicated staff who specialize in treating veterans with addiction
Evidence-based therapies that are tailored to the unique needs of each veteran
Flexible treatment options that fit seamlessly into each veteran's life
In-network care with VA Optum, which provides eligible veterans with easier access to treatment
A supportive and caring environment where veterans can focus on their recovery
A comprehensive range of services designed to address the physical, emotional, and psychological aspects of addiction
We are In-network with VA Optum
Effective January 17, 2023, veterans and individuals eligible for Compact Act emergent suicide care can receive crisis stabilization care from a VA Community Care Network (CCN) provider. This includes our organization, which is currently contracted through VA Optum (United Healthcare).
The Compact Act is a benefit provided to veterans or individuals in need of acute suicidal crisis care and can allow up to 30 days of inpatient care. With the elimination of the referral requirement, veterans can now seek the treatment they deserve with ease, and access to their care is expedited.
Get Started on the Road to Recovery
At Rockland Treatment Center, we appreciate the sacrifices you've made for our country and want to help you start your journey toward sobriety. We're proud to be able to offer compassionate care and support as you begin the road to recovery. We know it takes strength and courage to seek help, and we're honored to be able to assist you every step of the way.