Learning How to Have Fun In Sobriety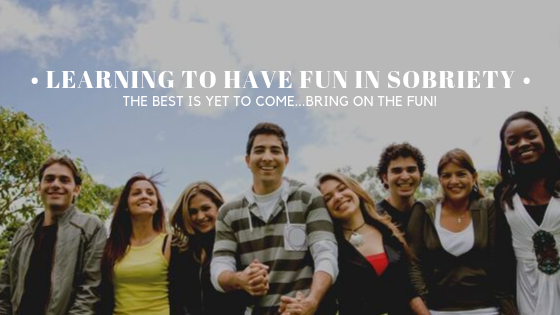 Published: September 26, 2019
When you're smack dab in the middle of a major life change like sobriety, a little planning can go a long, long way in staying on track. Before you ever find yourself in a situation where there may be a temptation to slip back into old habits, it's helpful to have a few ideas for having a good time! Rockland Treatment Center collected some of the common dominators that keep the fun in your life while keeping your sobriety! 
But what about the days when absolutely nothing fun springs to mind? Well, that's where we come in. There's so much to do, explore and experience that doesn't involve alcohol, so why not give one (or several) of these suggestions a try, and then tuck a few away for the proverbial rainy day so you'll be ready for anything?
Let the Positive Vibes Flow
Sobriety is new to so many that living your best life can be quite challenging! Unlike the movies about sobriety, we at Rockland Treatment Center give you tools such as  Rehab programs that also allow you to meet new people who can help to introduce you to new activities. Having someone to do an activity with you makes it that much more enjoyable. Plus, you're building friendships with those who can understand what you're going through because they're going through the same thing.
As you go through a rehab program you will also gain the clarity and the energy to want to try new activities. When you're under the influence of drugs and alcohol, all clarity is gone and you barely have the energy to get up in the morning. A rehab program will help to instill healthy habits that will revitalize your mind and body.
Solo Adventures
If your friends and family are out of town and you're flying solo, the time alone can be a good thing, therapeutic even. It helps, too, if you've got a few ideas to fall back on to alleviate any potential boredom.
We're all busy, so this may be the time for a good, long bath with candles and chill-out music. Maybe you find a great deal on Groupon and go to a spa for an extended day of pampering. Maybe you go and have your hair blown out straight or try a new cut or get some highlights to switch things up. Men, you can still get that tight barber cut, pamper yourself with new ways to look and feel your best! Sobriety isn't just about staying clean, it's about living your best life…just sober!  
If beautification and serenity are a little too low impact, maybe today's the day you give Zumba a try. Or yoga. Or rock climbing. Love nature… SPF and go for a hike — it doesn't even have to be a long one. Breathe deeply and take in your surroundings, and if you have a dog, be sure to bring him along for the fun. Up the drama by planning your outing to catch a scenic sunrise or sunset. 
Maybe you haven't taken a vacation in a while, but flying somewhere isn't practical. So why not be a tourist in your own town? Or drive somewhere cool that's close by? Check out a museum. Look for quirky shops or experience a new neighborhood you rarely visit. Try the restaurant you've been reading about on Yelp. Or if you don't like eating by yourself, take it to go and queue up a new Netflix series. If you've bookmarked a bunch of recipes, give one a try. If you're baking something yummy, consider sharing with a neighbor. They will love you forever, and you'll feel good.
Speaking of which, doing something good for someone else is always a great way to spend the day. Volunteer for a cause you believe in. Help someone move. Go to a local march or campaign for a candidate you support. Write your loved ones a letter, which never goes unappreciated in the era of email and Facebook messages. Clean out your closet and donate the things you say you're going to wear someday but never actually will. Plant a tree, plant flowers, plant some fresh herbs to make your meals all the tastier.
And if none of those float your boat, you can always take a nap, one of the single best activities ever. Plan a future vacation. Call your someone you've not spoken to in a while! Write in your journal. Listen to a podcast. The options really are endless. Get creative! 
Fun With Friends
Almost all of the activities mentioned above will work with a friend, too, but for a little more inspiration, consider the following: Host a Trivia or Game Night at your home or local clubhouse! Trivia is just one idea 
Hanging with your pets or volunteer at a local shelter
If you love pets, why not volunteer at an animal shelter? If not an animal shelter, there are many other places that are always seeking volunteers. This is not only helpful to the recipients but can also make you feel good that you are giving back to the community.
You may also find you're new best friend and save a life at the same time! 
Let's face it animals are awesome, and they need you as much as you need them!
Explore new hobbies
Complete the following sentence, "I've also wanted to learn how to (Fill in the blank) Whatever fills that blank can result in your new hobby. Check-in your area to see where you can learn more about your new hobby. Do some research online to see if your activity is something that can be learned over the internet. YouTube can be quite inspiring for new ideas for a plethora of different reasons, and who knows maybe sharing your story about recovery you'll become a Youtuber, share your story, help other people start the journey to sobriety!  
We all just wanna have fun as stated in the Cindy Lauper song from the 80s! Sobriety can open your mind to endless possibilities of all the fun times ahead! 
Feel free to send us a message about your story in regards to having fun in your sobriety!