Understanding Your Options: Intensive Outpatient, Outpatient, and Inpatient Addiction Treatment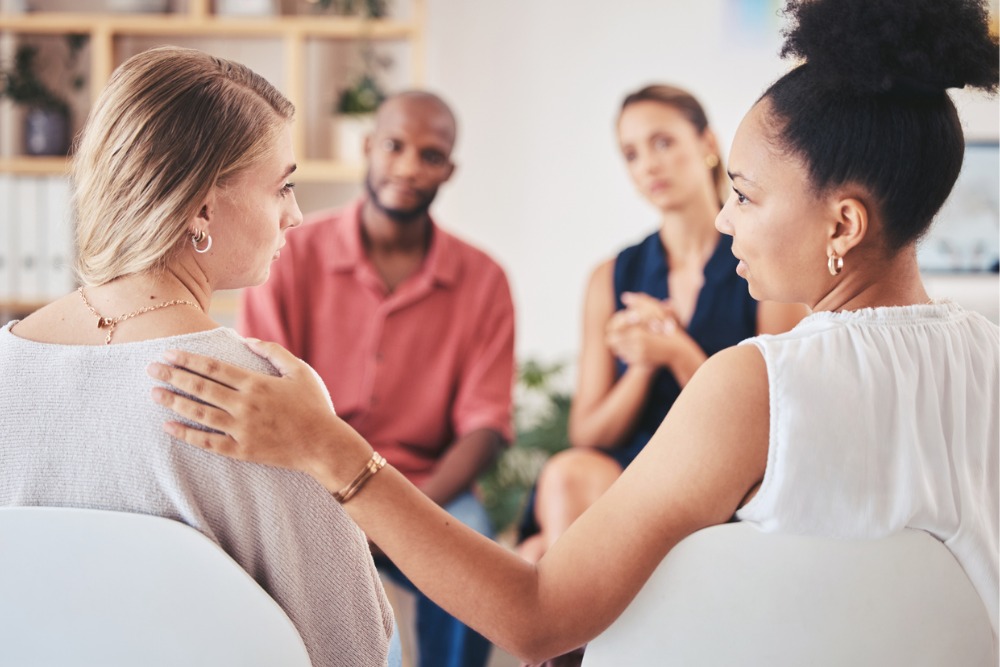 Published: May 9, 2023
At Rockland Treatment Center, we believe everyone's journey to recovery is unique, and that's why we offer a comprehensive range of treatment options to suit your individual needs. As you explore the world of addiction treatment, it's important to understand the differences between Intensive Outpatient, Outpatient, and Inpatient/Residential programs. With this knowledge, you'll be better equipped to make an informed decision about the right program for you or your loved one, ensuring the best possible path to recovery.
Intensive Outpatient Program (IOP)
Intensive Outpatient Programs (IOPs) are designed for individuals who require more structure and support than traditional outpatient treatment but do not need the around-the-clock care provided by inpatient programs. These programs typically involve multiple therapy sessions per week, allowing participants to maintain work, school, or family commitments while receiving the support they need to achieve lasting recovery.
Benefits of an Intensive Outpatient Program
At Rockland Treatment Center, our IOPs offer the following benefits:
A flexible schedule that accommodates your daily responsibilities

Access to our multidisciplinary team of addiction professionals, including therapists, counselors, and physicians

Evidence-based treatments, such as Cognitive Behavioral Therapy (CBT), Dialectical Behavior Therapy (DBT), and 12-step facilitation

Family therapy and support to help you rebuild relationships and foster a strong support system
Outpatient Treatment
Outpatient treatment is designed for individuals who are in the early stages of addiction or have already completed a more intensive treatment program. This level of care provides a less structured environment, allowing participants to continue living at home while attending therapy sessions at the treatment center.
Benefits of Outpatient Treatment
Rockland Treatment Center's outpatient treatment offers the following benefits:
A step-down approach, enabling you to transition from intensive treatment to a more self-directed recovery journey

Continued access to our professional support network

Ongoing therapy sessions to reinforce healthy coping mechanisms and prevent relapse

Group therapy and peer support to help you build a sober community
Inpatient/Residential Treatment
Inpatient or residential treatment programs provide the highest level of care, offering 24/7 support and supervision in a structured, therapeutic environment. These programs are ideal for individuals with severe addictions or co-occurring mental health disorders, as they provide a safe space to focus entirely on recovery.
Benefits of Inpatient/Residential Treatment
At Rockland Treatment Center, our inpatient/residential treatment programs offer the following benefits:
A holistic approach addressing the physical, emotional, and spiritual aspects of addiction

Comprehensive medical support, including detoxification and medication management

Individualized treatment plans tailored to your unique needs and recovery goals

Access to a wide range of therapeutic modalities, such as experiential therapy, art therapy, and mindfulness practices
Finding the Right Treatment Option at Rockland Treatment Center
At Rockland Treatment Center, we are committed to helping you find the right treatment option to meet your unique needs. Our compassionate, experienced team is ready to guide you through every step of the recovery process, providing the support and tools necessary to achieve lasting change.
With our comprehensive range of addiction treatment programs, you can feel confident that we will help you find the program that is the best fit for you or your loved one.
Take the first step towards a healthier, happier future by contacting Rockland Treatment Center today. Our dedicated team is here to answer your questions and help you determine which treatment option is right for you. Contact us today to get started.